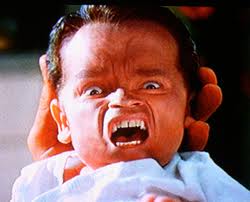 "(The Bureaucratic model is) merely an institutional design that allows for the relatively easy governance and control of human beings in massive, endless hordes. That's right—I'm laying blame at the feet of rampant human overpopulation for the Bureaucrazy as well! And not without ample justification.
I mean, yah of course we've already waayyyyyy overshot this planet's carrying capacity—which is not to say we should find another planet to inhabit, as that's not only ludicrously undoable, but also a heinous pile of moronic thoughtfeces; how about fixing the [only] goddamn planet we already have, instead of resigning ourselves to buttfucking the place to death with pollution and then starting the process all over again somewhere else [and again, that's IF it were even possible, and once more all together yes everyone even you all way in the back, IT'S NOT FUCKING POSSIBLE, SO JUST STOP. OKAY?-GOOD-THANKS!]—so, given the overall stupidity of the human species, the Bureaucrazy is probably here to stay until we get our population down down way down to a sensible pleasant number that accounts for the fact that we're not the Chosen Ones or Gawd's Children or All That Matters but rather a single bloated selfish disgustingly overabundant species on a planet of 10,000,000 yes ten million different ones, all each and every one special and ecologically important some more or less than others but all with just as much right to be here no screw that more of a right to be here than us, cuz we're just a whole damn stupid ass shitload of Clever Hairless Apes [not Wise, just Clever, much too clever for anyone's good],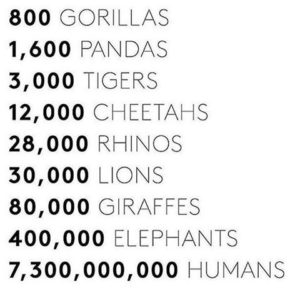 and my wife and I are childfree and I already got vasectomized at age 25 right before my incarceration began so I'm not in a glass house and can go ahead and throw stones and so I'll make it ever-so-simple even though I know my Dear Readers are hella smart definitely above average [Love You! 🙂 ] but still just in case here are 4 simple suggestions-or-maybe-more-like-pleadings:
[1] If you have 0 kids and you/your partner don't really want to have any, then DON'T! Be cautious, but if you do get pregnant, there's NO SHAME in abortion!
[2] If you have 0 kids but want 1+, be some poor child's absolute *hero* and ADOPT! There are 415,000 children in U.S. foster care today.
[3] If you already have 1+ kid/s, STOP! Want more? Be some poor child's absolute *hero* and ADOPT! There are 415,000 children in U.S. foster care today.
[4] If you have functioning sperm, aka semen-demons, stop them! Be like all the cool kids—and also like me—and get vasectomized! Planned Parenthood performed mine on a sliding scale of $0-$400 [≈ cost of 1 abortion!], and since jan = unemployable cripple, mine cost zero $s. Awesome! They're so great, I love them! Thank you Dr. Heller!!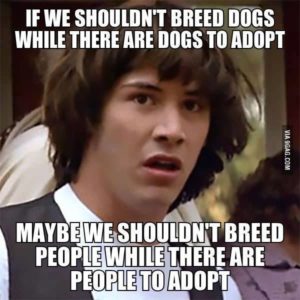 I met with (Dr. Heller) first and he wanted to know my reasons because I was "so young" and might change my mind.[1] So I hit him with only about 60 seconds of the ∞ish seconds for which I could've listed reasons, and he was like, Okay—you've obviously put a lotta thought into it and sound confident, sooooo let's get you prepped! And the hardest part of the procedure was a slight tugging pain that lasted ≈ 3 seconds—yet I've never been more satisfied with any of my personal actions.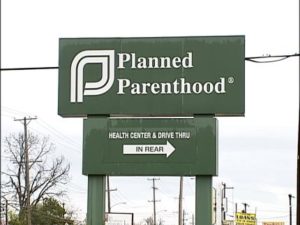 It's the best thing I've ever done for myself, and for the planet, and for my female partners [given that our society places a sickening amount of the pregnancy-burden on women; this is total bullshit, and more men need to step up and take this proactive measure, thereby removing some of that shitty, inappropriate weight from off of women's shoulders like the decent partners I'm certain many of you are].
    . . . .
    Oops! sorry, went into Ramblemode again, but c'est la ME; and hey, sometimes tangents can reveal important information. Even so, I'm sorry my Dear Beloved Reader, please forgive me!"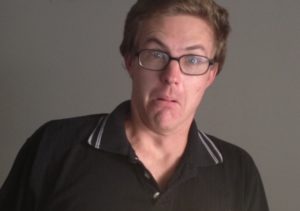 [1] Isn't it just a big ole hoot that society almost never gives an iota of a shit when, say, a 21-year-old woman has a baby, and yet it's difficult in most places for a 30-year-old woman to get sterilized?! HAHAHAHAHA . . . HAHA . . . oy . . . stop it, 'Murica, yer logick's showing!