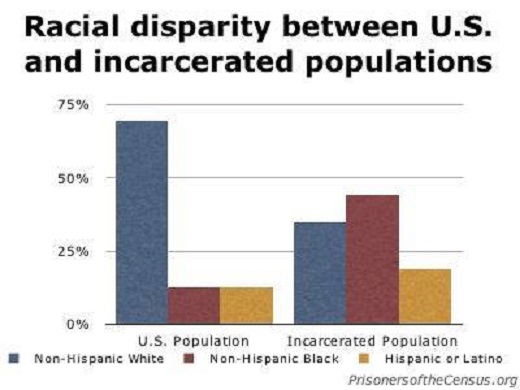 This is a subject I cover in my new memoir Rebel Hell: Disabled Vegan Goes to Prison with extensive, supposedly fascinating detail–including creative visual and typographical tricks that cannot be duplicate or understood outside the book. The above chart demonstrates one of the very odd aspects of the American "Justice" System; even a lot of people who know and talk about the racial disparities in U.S. prisons aren't aware of this bizarre fact. That is, it's not the typical white-compared-to-people-of-color dichotomy. Simply put, it's specifically and dramatically BLACK PEOPLE who face a staggering racial bias in the courtroom. Especially when compared with whites. As this chart shows, looking at national averages–which are horrific in their own right, and yet aren't nearly as unbalanced racially than certain individual states, like Illinois, where I was incarcerated–the average numbers show that prisons have about half as many white people per capita as the "Free World," while blacks' population density inside is about FOUR TIMES GREATER than outside of prisons!
~~~~~~~~~~~~~~~~~~~~~~~~~~~~~~~~~~~~~~~~~
REBEL HELL EXCERPT


[from PART 2: WELCOME TO MY NIGHTMARE]
"For now though, I'll just point this out: while blacks make up 15 percent of Illinois's general population, they comprise about 58 percent of its incarcerated population. These numbers are more or less consistent with national trends—at least to the extent of blacks' astoundingly disproportionate rate of imprisonment compared to their civilian population. STAGGERING is the word that comes to mind. Every time I think about the numbers, no matter how long it's been since I internalized them . . . STAGGERING.
Given all this—none of which is opinion, but rather factual statements backed by widely available statistics if you care to look—I think it's time to drop a pipebomb-quote. In The Culture of Make Believe, Derrick Jensen [who provided the blurb for this book's front cover] writes, "Our judicial and penal systems form a massive interlocking set of racist and terrorist organizations, [the latter of which] is defined, remember, as one that deters through terror."
America's endless Company Line is how we're "The Greatest Country in the World." Its prison numbers clash discordantly with that claim; yet still that Line is spewed, Tourette's-like, by American politicians and the mainstream media. If this country is so damn spectacular, why are massive throngs of people locked up? Imprisoned at rates and sheer numbers that're unprecedented? Why do so many people commit serious crimes [as defined by those in power]? Keep in mind, lots and lots of criminal behavior is rooted in despair, in thorough dissatisfaction—with poverty, with one's living conditions, with economic opportunities or lack thereof, with the status quo; dissatisfaction with a combination of these, or with something else altogether. The question remains: Why are so many people so unhappy, willing to engage in activities that risk incarceration, if America's so great?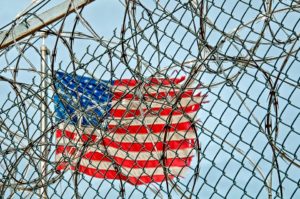 We're a Prison Nation. Through and through. So it makes sense that one of this book's central theses is that those of us living within the confines of industrial civilization are all prisoners, to varying degrees. Bound by laws that often infringe on our personal birthright-freedoms; bound by the chains of financial bondage, forced to work and pay money to simply exist—what else could rents or mortgages [aka shelter] be considered?
Of course, there are levels of freedom, and prisoners have some of the lowest. Perhaps the only individuals below us in America are sex slaves, and then—way, way farther below, at the very very bottom—nonhuman animals trapped inside fleshfarms, vivisection laboratories, fur "farms," circuses, rodeos, zoos, and the like. They committed no crime—except the crime [?!?!?] of being born nonhuman."
~~~~~~~~~~~~~~~~~~~~~~~~~~~~~~~~~~~~~~~~~~
If you want to learn much, much more about this while simultaneously experiencing a harrowing true story that is dark and bleak and depressing, yet somehow equally triumphant and poignant and beautiful–not to mention the gallow's humor that permeates almost every page–you should read my memoir! Rebel Hell: Disabled Vegan Goes to Prison is "wildly original," and you're almost certain to love the unique, immersive experience. Check out this blog post for further information and an author Q&A.
Get Rebel Hell via my website and have your copy

signed

&

personalized

by clicking HERE!
U.S. READERS

: Order the paperback or ebook from Amazon HERE.
NON-U.S. READERS

: You can CLICK HERE
and scroll down for Amazon links to the book in Canada, the UK, France, Spain, Germany, and Australia (ebook only).
Love and Liberation,
Jan Smitowicz
                                        ~~~~~~~~~~~~~~~~~~~~~~~~~~~~~~~~~~~~~~~~~~