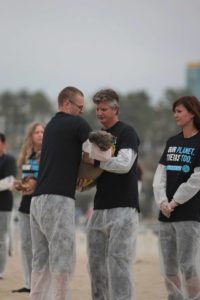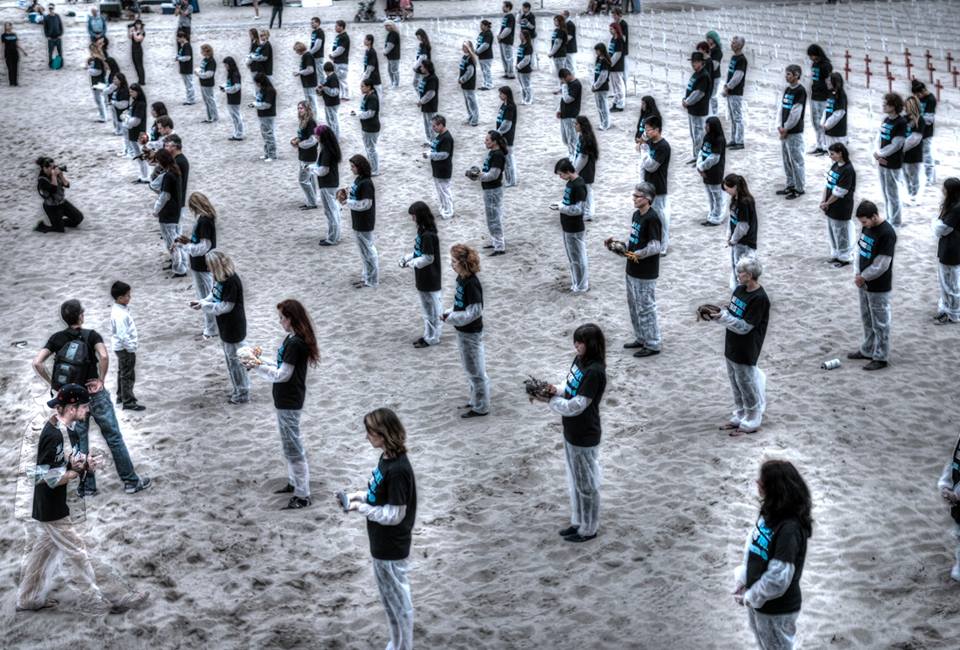 I cannot BELIEVE the 3rd annual National Animal Rights Day ceremony–in which I played an important role–was four years ago this month! It was such a profoundly inspiring and empowering experience for so many people. Credit to
Aylam Orian
 and others for spearheading this powerful form of in-your-face ethical confrontation and of publicly honoring the *billions* of nonhuman individuals victimized & brutalized in unfathomably barbaric ways by the dominant culture; 99+% of all domesticated animals suffer through ferocious unrelenting savagery and mass murder-genocide. This daily holocaust has grown to a fatal-fever pitch as a direct result of human overpopulation and gluttony and ignorance and greed and selfishness and nauseating apathy. But on that day, we stood together through immense emotional trauma to push back against this heinous culture of death made that much more tragic by the total needlessness–the utter non-necessity–of flesh ["meat"] eating, vivisection, animal-based clothing, breeding, circuses, et cetera ad nauseum.
I'm absolutely HONORED to have played a role in that event, helping to prepare [read: defrost], transport, and hand out the nonhuman persons who'd died from deplorable living conditions before they even made it to the slaughterhouses, torture laboratories, and so on. I appreciate each and every one of those individuals for inspiring me to work even harder to help them through my writing-activism; I'm sorry I can't do more–if I were still able-bodied, I'd still be helping them with actions far more direct and hands-on. But I can't, so I do what I CAN the best I can. Rest easy, sweet angels–at least you've been returned to the Earth, where you can maintain the peace and non-suffering you were never for even a single moment allowed to experience in this hideous Death Culture. You are gone but never forgotten.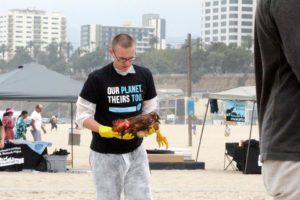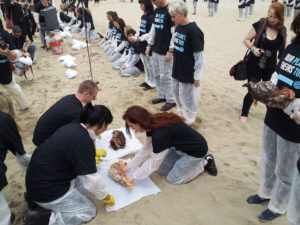 I'll finish with a couple quotes from Isaac Bashevis Singer, a Polish Jew, Holocaust survivor, and Nobel Prize-winning author:
"In their behavior toward creatures, all [people] are Nazis….for the animals, it is an eternal Treblinka….The smugness with which man could do with other species as he pleased exemplified the most extreme racist theories, the principle that might is right…Human beings see oppression vividly when they're the victims. Otherwise they victimize blindly and without a thought."
"As long as people will shed the blood of innocent creatures, there can be no peace, no liberty, no harmony between people. Slaughter and justice cannot dwell together."
If you enjoyed this piece, please check out my captivating, "outrageously candid," darkly funny, and important new memoir Rebel Hell: Disabled Vegan Goes to Prison. Maybe even sign up for my author e-newsletter!–which comes out every couple months and features exclusive content, sneak peeks, contests, and other fun stuff. All you need to provide is an email address and first name.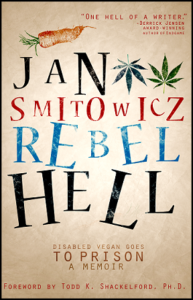 ~Love & Liberation~
Jan