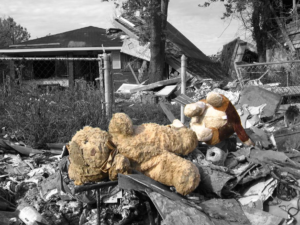 Six months after Hurricane Katrina ravaged the Gulf Coast in 2005, I returned to my beloved New Orleans for the second time after the storm to do on-the-ground relief work with a DIY, anarchistic organization called Common Ground. Kiss Me Like You Mean It is my 45ish page narrative nonfiction piece, including photographs taken by me like the one below, about some of my experiences in the optically blasted war zone of low income New Orleans in the wake of that awful storm…a poignant, eye-opening, and captivating peek into something most Americans think is, well, unthinkable here.
Now and up until midnight this Sunday, February 18, I'm offering Kiss Me Like You Mean It to anyone who wants it for FREE! You don't need a Kindle to read it, you can do so using *any* device! 
Download the FREE KINDLE APP (click below book cover image) to read on any device.
 The startling injustice of everything we'd seen down there was so horrid, so sickening, so plainly fucking transparent. Revealing gruesome truths about race and class in America that are so damn obvious once you've glimpsed beyond the flashy neon exterior; when the veil of obfuscation has been ripped off—as Hurricane Katrina did for so many of us—and you witness first-hand the ugly realities that are an unquestionable (and often unquestioned) part of daily life for countless Americans.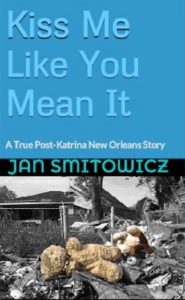 If you read it, I'd love for you to leave a rating/short review no matter what you thought! Thanks.
Jan